Evowrap UK Supply & Installation
Wall vinyl wrap installation & custom printed wall mural installation.
Commercial vinyl wall wrap installation. Self adhesive 3M Di-Noc and Cover Styl' vinyl that can wrap over most wall surfaces.  Choose from many styles as well as custom bespoke prints.  UK nationwide installation or free delivery direct to your door.
Benefits of Vinyl Wall Wraps
We offer vinyl wrap for furniture –  UK installations.  Don't replace your furniture, upgrade it.
More durable than painting
Paints for the stone age. There's a lot of negatives to paint and all positives when it comes wall wraps. No more Brushing past wet paint, run marks, paint splatter, wobbly lines when cutting in. Not to mention wall wraps can be wiped clean very easily and doesn't need constantly touching up.Architectural wall wraps are the future, leave paint in the past.
Enviromentally friendly
We're all trying to reduce our carbon footprint and recycle more. A wall wrap is environmentally friendly. It comes with extensive warranties and will last for many years to come. No need to keep painting the walls every couple of years. Upcycling interiors stops unnecessary waste going to landfill. A win win for you and the planet.
Less disruption to your business
Getting a team in to paint your walls is disruptive to your day. The area needs to be cordoned off. Everything gets covered in dust sheets. The area needs to be protected whilst the paint drys. No more! We don't need dust sheets and can be in and out of the area very quickly. Plus as soon as we've finished the installation the area can be used immediately.

Fire tested and approved
3M Di-Noc and Cover Styl' both meet CE and EN 13501 fire certification standards giving you total peace of mind. Both vinyl wraps have been vigorously tested to meet performance regulations for wall coverings for your business.
Hygienic - Easy to wipe clean
Vinyl wrap is extremely easy to clean. Cover Styl' and 3M Di-Noc are extremely hygienic. Our vinyl is anti-bacterial so is perfect for kitchens and other clean areas.

10-12 years warranty
Our furniture wrapping service comes with huge warranties. The vinyl we install is the best available. As accredited commercial wall wrap installers you can be sure that the vinyl will last for years to come. 3M Di- Noc comes with 12 years warranty and Cover Styl' comes with 12 years warranty.
Why choose an Evowrap installation?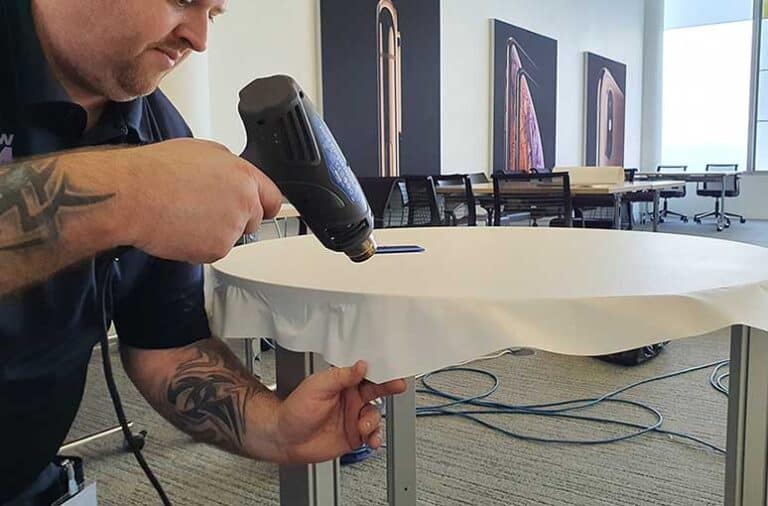 Evowrap are accredited Cover Styl' commercial wall wrap installers.  Wherever you are in the country, you can benefit from an Evowrap commercial wrap installation.
We are based in the Midlands and have our team of installers covering the whole of the UK, and we don't use subcontractors. All Evowrap team members who visit your property are employed and highly trained in the Evowrap way.
We're a friendly family run business, just at the end of the phone, please give us a call to discuss your requirements or us a call today to discuss your requirements or request a quote using our online form today.
Why Trust Evowrap?
Extensive warranties
Friendly, family run business
Over 19 years experience in the industry
Mess free installations
We accept all major credit cards
Simple booking process
We use premium grade 3M Di-Noc and Cover Styl' vinyl wrap 
Our vinyl wall wrap installers cover the whole of the UK for residential and commercial installations.  We travel up and down the country every day from London to Birmingham, Manchester to Bristol.