Evowrap UK Supply & Installation
Let Evowrap Resurface You Kitchen Doors, Cupboards or Worktop
For residential and commercial installations.  We install a large range of solid colour, wood and marble kitchen wraps from Cover Styl' and 3M Di-Noc. 
We cover Birmingham, West Midlands, Worcestershire & Warwickshire
Benefits of Vinyl Kitchen Wraps
We offer vinyl wrap for furniture –  UK installations.  Don't replace your furniture, upgrade it.
More durable than painting
Paints for the stone age. There's a lot of negatives to paint and all positives when it comes kitchen wraps. No more Brushing past wet paint, run marks, paint splatter, wobbly lines when cutting in. Not to mention wall wraps can be wiped clean very easily and doesn't need constantly touching up.Vinyl kitchen wraps are the future, leave paint in the past.
Less disruption than having a new kitchen fitted
A new kitchen is a massive disruption. Firstly a team needs to come in and rip the old kitchen out. This is noisy and messy and can result in dust everywhere. It leaves your kitchen off limits. You then have to wait while the new kitchen is installed. Your kitchen can be off limit for days. A vinyl wrap on your kitchen is completely mess free an is normally completed within the day.
Hygienic & easy to wipe clean
Vinyl wrap is extremely easy to clean. Cover Styl' and 3M Di-Noc are extremely hygienic. Our vinyl is anti-bacterial so is perfect for kitchens and other clean areas.
Looks like a new kitchen
If you're worried that a wrap on your kitchen may be an inferior choice then rest assured it certainly isn't. We have a huge choice of vinyls. Once installed they really do make your kitchen look like new. Whats more it's a fraction of the cost and a lot less disruption.
Save money on the cost of a new kitchen
We've talked about how good a new kitchen wrap looks. We've also spoken about it being a lot less disruptive. Now, lets face it, one of the most important thing for all of us is the cost. A kitchen wrap will save you money on buying new kitchen doors and worktops.

10-12 years warranty
Our furniture wrapping service comes with huge warranties. The vinyl we install is the best available. As accredited kitchen wrap installers you can be sure that the vinyl will last for years to come. 3M Di- Noc comes with 12 years warranty and Cover Styl' comes with 12 years warranty.
Interested in installation?
Interested in installation?
Clients we have worked with
This is the second time we have used Evowrap, Paul has previously installed graphics on two of our vans, this was van number three! Every time has been a smooth process via email and it has been easy for the studio to create visuals from the van blueprints that Paul sends over. He will then liaise directly with the dispatch team leader to get the van booked in. Finished results are great!
I am a demanding customer and I can honestly say that I was very pleased with their communication, prices and most of all the quality of installation. It helps that they are both friendly and honest in their approach. Highly recommended and will use again without hesitation.
Wonderful customer service from the initial conversation about different films/products to the installation on the day. Friendly, professional and efficient. Thanks for everything!
Paul from Evowrap came out to our house in Telford and he did a fantastinc job. We have a very expensive audio visual cabinet with red fronts which the manufacturer (German) said they couldn't help with. So Paul did the wrap on the fonts in Gloss black and wow perfect result ! Saved us from selling this at such a loss. Ref Photos: Original is Red. Wrap now in Black.
Why choose an Evowrap installation?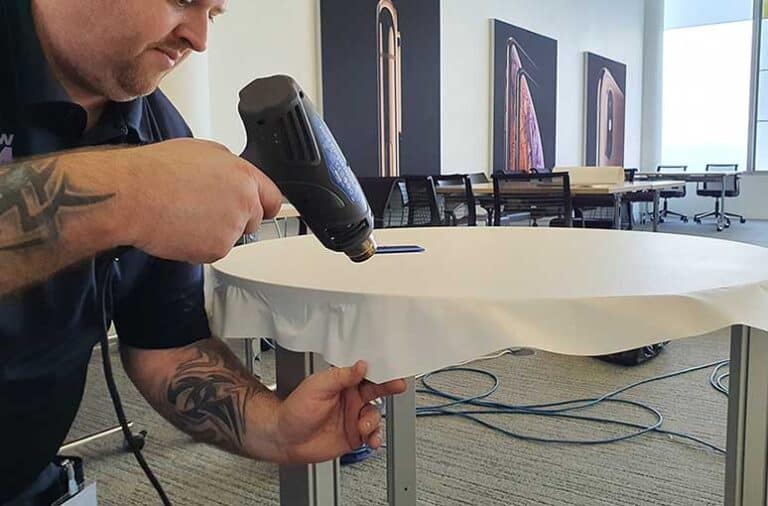 Evowrap are accredited Cover Styl' kitchen wrap installers.  Wherever you are in the country, you can benefit from an Evowrap commercial wrap installation.
We are based in the Midlands and have our team of installers covering the whole of the UK, and we don't use subcontractors. All Evowrap team members who visit your property are employed and highly trained in the Evowrap way.
We're a friendly family run business, just at the end of the phone, please give us a call to discuss your requirements or us a call today to discuss your requirements or request a quote using our online form today.
Why Trust Evowrap?
Extensive warranties
Friendly, family run business
Over 19 years experience in the industry
Mess free installations
We accept all major credit cards
Simple booking process
We use premium grade
We use premium grade 3M Di-Noc and Cover Styl' vinyl wrap 
Interested in installation?
Interested in installation?
Our vinyl kitchen wrap installers cover a 60 mile radius of Bromsgrove for residential wraps and nationwide for commercial installations.
Interested in installation?
Interested in installation?